So I mentioned when I started reviewing Etsy purchases, that I was going to go back and give proper credit to some of my favorite old purchases… most of them I've sorted into some categories, and are awaiting a few more purchases that fit those categories before the reviews will be written, but today we're going to go thru some of the outlayers… little indulgences I didn't get because of gaming, or a certain geek motif I was looking to fill or any such thing…. things which are just plain awesome.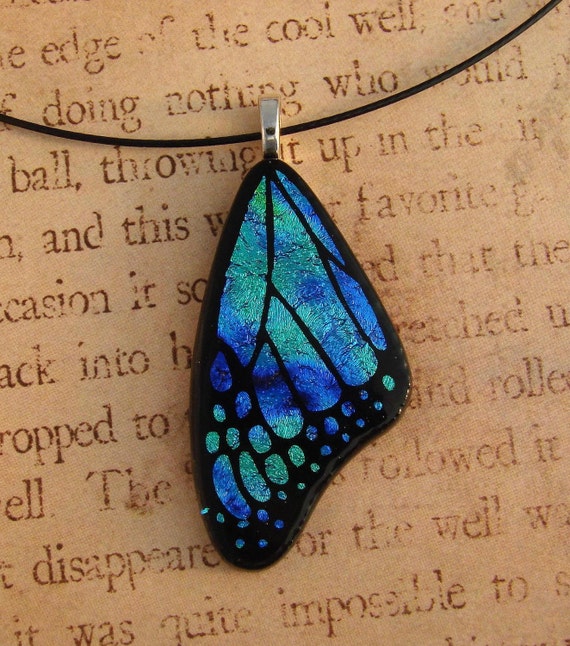 So first up is a Christmas gift I got, which is apparently from the same crafter as a gift I GAVE someone else! We've got  Fused Elegance, run by the same crafter as Lin's Geekery, and also selling Fused Glass creations like the awesome Metriod pendant I gave to my friend, only… not geeky. I have to say this wing isn't even done justice by the photos. I strung it on my favorite chain, around my neck at the moment, though it's still going to have to share that chain with several other pendants that I happen to own.
I'll stop for a moment to pimp the Amazon Universal Wishlist function… that's how I got this glorious little slice of butterfly love. You can in fact put items on your Amazon Wishlist from Etsy.
The next Etsy purchase I'd like to highlight is my dragonhide gauntlets from Crystalsidyll. I actually have two pair of these, the ones pictured are my "House Gauntlets." They're custom in black with blue details and black knit, and they are contrary to appearances extremely COZY. The knit is thick and warm and hugs the hands, and the weight of the scales adds a little extra illusory warmth to them, like a thick cozy blanket… while still leaving the palms thin enough to easily use a keyboard or perform other detailed tasks. I'm wearing mine now!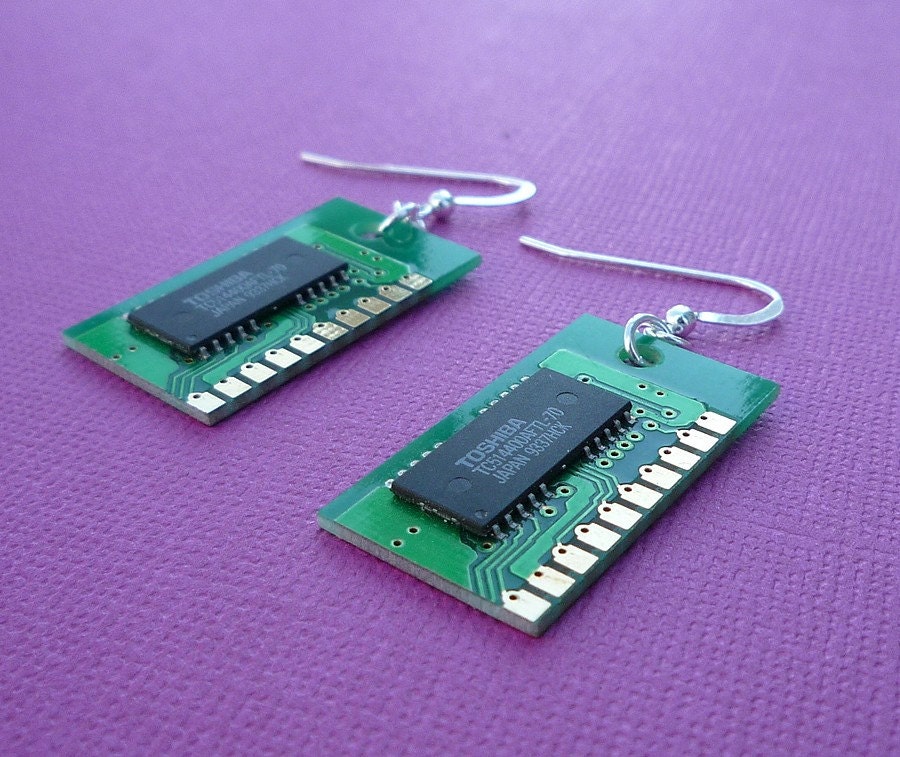 These RAM chip earrings were made for me by Sparkover, whom I highly recommend. The jewelry and other accessories made there out of upcycled computer parts range from the simple standard chip earrings and such, to the totally unique pendants cut in detailed shapes and enhanced with resistors, glass beads and wire. I happen to have requested these exactly as they are shown and that's how they made them. Sadly I've also since misplaced them… yes I misplaced the earrings I commissioned to replace the earrings I misplaced… it's completely pathetic. I hope to find them though, because I love them to bits.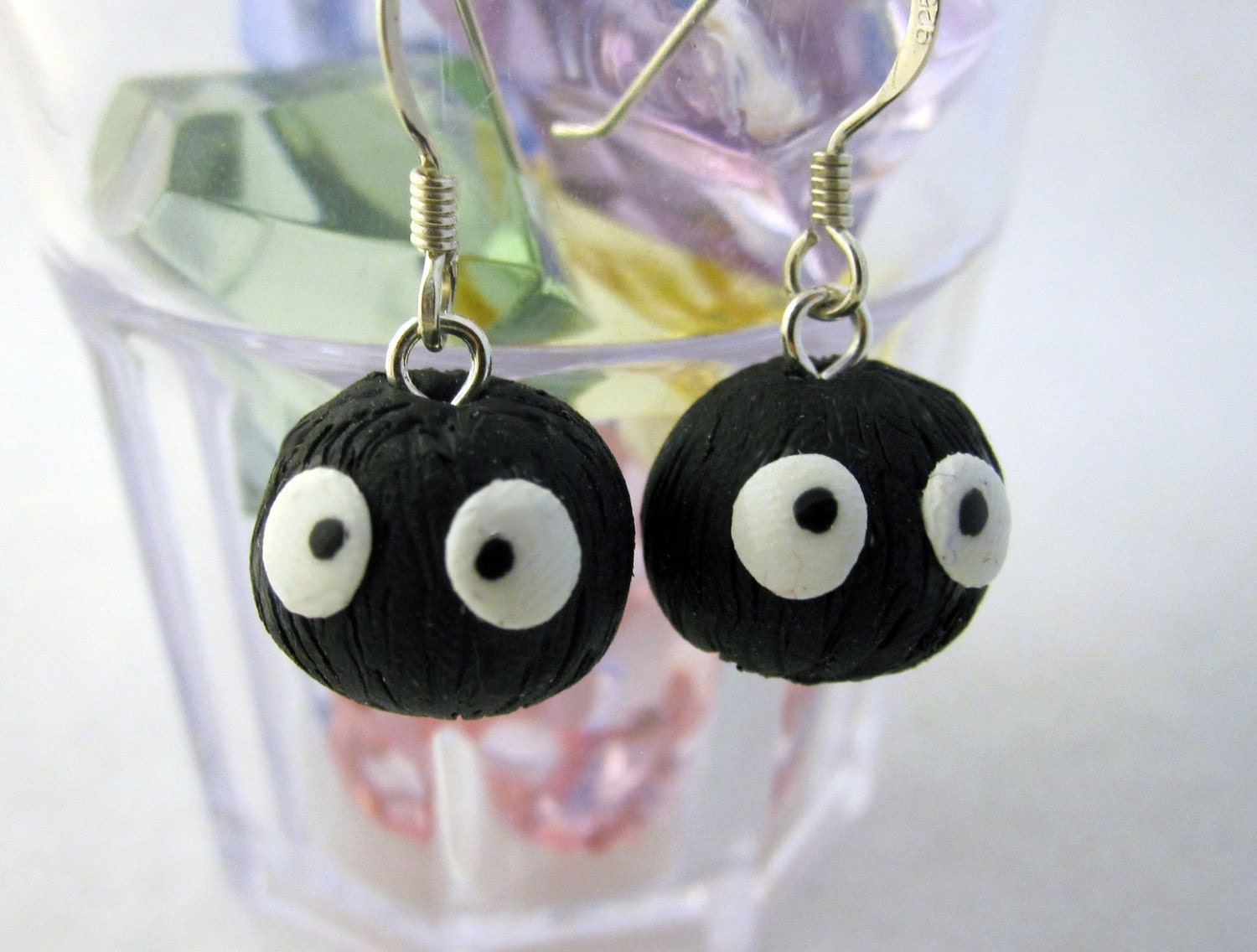 These Totoro Soot Sprite earrings are by a now familiar shop, Egyptian Ruin,  who made the Megaman charm for DB_Ranger's Wiimote, we'll be seeing more from her later on when I feature Zelda related items, and Portal related items, because I bought entirely too much stuff from her in that order with the Megaman Charm.
I have a strong desire to get myself a set of these Tiny Totoro Bottle Earrings, she has in stock because they are just sooooo adorable!!!
So, let me state up front that FRAZZLES ARE ADORABLE.
What's a Frazzle you ask? This adorable green fellow with the red hair is a Frazzle. He's got tons of brothers and sisters up for adoption over at EndlessHorizon. Back when I had a job he used to brighten up my cubicle significantly, with his black shiny eyes and his wild feather hair. Now he's chilling on the bookshelf near the post cyberpunk novels, brightening my livingroom and waiting for a cubicle to habituate in once more.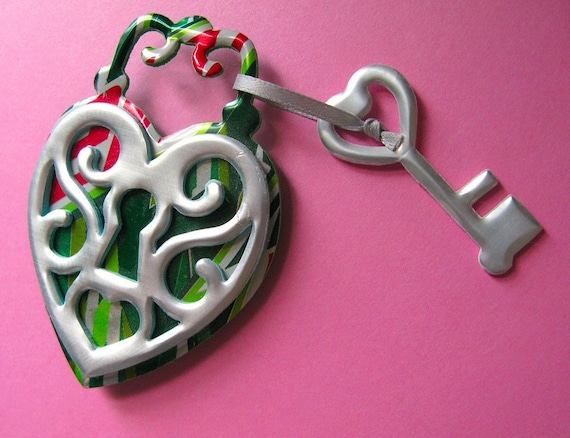 And what else belongs in the cubicle? Mountain Dew… lots of it, and this magnet by KMStudioDOTcom. Mountain Dew holds the key to my heart. How else would I stay awake and alert all day at work, and all night at DnD? Sure it's going to eat away my insides, but… it tastes SO GOOD!!! The magnet is well constructed and has a soft foam back which prevents any sharp edges from scratching you. The design is elegant, and a good 50% of the time people didn't realize till the third or fourth time they'd seen it that it was made out of a Mountain Dew can! She makes them out of many other kinds of can too…
So yes… awsomecakes, all of these shops. Give them love!!!
8^)