So I mentioned when I started reviewing Etsy purchases, that I was going to go back and give proper credit to some of my favorite old purchases… most of them I've sorted into some categories, and are awaiting a few more purchases that fit those categories before the reviews will be written, but today we're going to go thru some of the outlayers… little indulgences I didn't get because of gaming, or a certain geek motif I was looking to fill or any such thing…. things which are just plain awesome.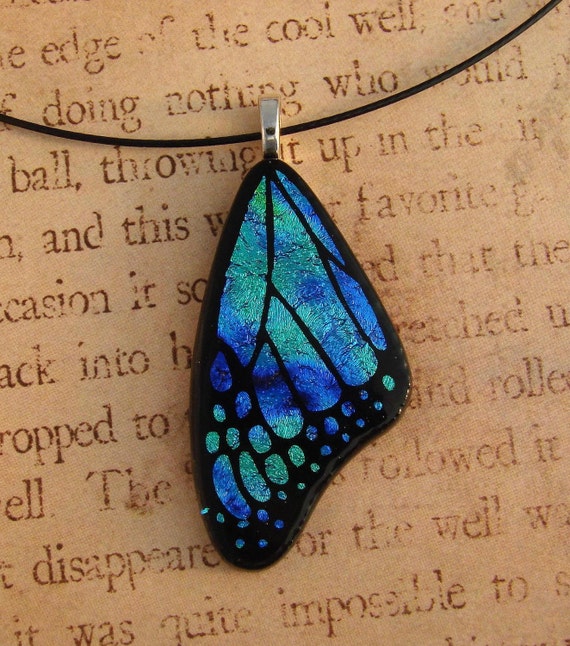 So first up is a Christmas gift I got, which is apparently from the same crafter as a gift I GAVE someone else! We've got  Fused Elegance, run by the same crafter as Lin's Geekery, and also selling Fused Glass creations like the awesome Metriod pendant I gave to my friend, only… not geeky. I have to say this wing isn't even done justice by the photos. I strung it on my favorite chain, around my neck at the moment, though it's still going to have to share that chain with several other pendants that I happen to own.
I'll stop for a moment to pimp the Amazon Universal Wishlist function… that's how I got this glorious little slice of butterfly love. You can in fact put items on your Amazon Wishlist from Etsy.
The next Etsy purchase I'd like to highlight is my dragonhide gauntlets from Crystalsidyll. I actually have two pair of these, the ones pictured are my "House Gauntlets." They're custom in black with blue details and black knit, and they are contrary to appearances extremely COZY. The knit is thick and warm and hugs the hands, and the weight of the scales adds a little extra illusory warmth to them, like a thick cozy blanket… while still leaving the palms thin enough to easily use a keyboard or perform other detailed tasks. I'm wearing mine now!